Utopia Family Chiropractic Reviews
What Our Clive Patients Say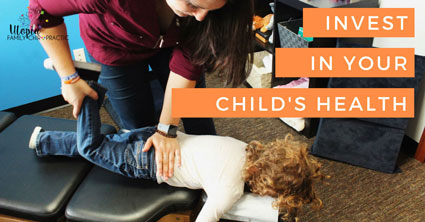 At Utopia Family Chiropractic we love when patients share with us their feedback and comments after chiropractic care. Please read our patient testimonials below to see what other people have achieved through their tailored treatment plans with us.
Share your stories too! Click here to send us your feedback so that we can help to spread the word about the benefits of natural Utopia Family Chiropractic care.
For more information, or to schedule an appointment contact us today.
---
Positive Vibe
My son is struggling with ear infections and I've heard that chiropractic services can help. I was so nervous to take my 1 year-old in, but I knew that I had to do something that would be preventative rather than putting him on an antibiotic after antibiotic. At our first visit, we walked in and Dr. Lindsey was so approachable and gave off a such a positive vibe. The office setting was so clean, there were toys, and I felt instantly more comfortable with my son being there. She talked both of us through everything that she was doing and left all decisions up to me, I didn't feel obligated to follow any recommendations that we discussed. I have no questions about bringing my son back. Dr. Lindsey said, "the most important part of an adjustment is that he's comfortable", there is no pressure for him to lay down, she works with him. I recommend Utopia Family Chiropractic to anyone who is considering chiropractic services or looking for preventative solutions for themselves or children.
-Heather H.
Truly Cares!
We had a great experience with our visits! Dr. Lindsey was very good at listening to our concerns and explaining her approach to getting our son back to his healthy state. The first few days after his first appointment Dr. Lindsey checked in with us to make sure Tanner was doing fine with his adjustment. She's continued to check in with us to see how he's doing. Dr. Lindsey truly cares about her patients and getting to the root cause of the issue. I wish I would have started taking my children sooner after seeing the results we've gotten from their adjustments.
-Laura, Taylor, and Tanner D.
She's changed my life!
Lindsey has helped me more than I ever expected. She's amazing! When I started going to see her I was in pain all the time and not feeling well at all and now after being adjusted regularly I rarely have pain and when I do it is because I've overstressed my body and she's so great to get me for an adjustment immediately. She's changed my life…Thank you, Lindsey!! Lindsey has also changed my daughter's life and my granddaughter's. Lindsey's goal is to help people and that she does!!
-Kim H.
Stairs Were No Problem!
I am very happy with the care I've received from Utopia Family Chiropractic. Dr. White has helped me so much. When I started seeing her I had a hard time walking due to a knee injury. Stairs were almost impossible. Within a few visits, my knee was back to normal and stairs were no problem!
-Marci S.
Great with Kids
Dr. Lindsey is amazing! She is great with the kids and very personable! She went over our care plan very thoroughly and explained everything in easy to understand terms! Our little guy can't tell us how he's feeling but we can tell he is well on his way to wellness! His face lights up when he sees Dr. Lindsey!
-Amanda and Connor M.
Love the Passion Towards Caring For Kids
I love the passion Dr. Lindsey White has towards caring and helping kids. It is refreshing to have someone taking care of your child that genuinely wants to help.
-Deb B.
Attentive
Dr. Lindsey was very attentive to my needs. I liked the way she explained the scans she took of my body and I definitely can see the areas that need help. She is a very friendly, helpful, honest, genuine, kind and caring chiropractor.
-Tammy D.
Great Job
Dr. Lindsey did a great job explaining where I was out of place and the triggering pain/stiffness areas. I'd highly recommend her services to friends and family.
-Kristen C.
Excellent
You did excellently! We have also seen an increase in Sam's words and effort in putting sentences together. He voluntarily has been yelling at his sister (yay!) he says "NO NENNA, MY TOY!" And he said "Dada at work?" I was very skeptical but would recommend you to any parent!
-Amanda A.
Feeling Healthy
I've been getting adjusted by Dr. Lindsey for about 3 years now and I can honestly say it is the healthiest I have ever been! Not that I was really "sick" before I started seeing her, but I had headaches every so often and random colds and whatnot. I realized that just because these things were "common" did not mean they were "normal". Now I know what it feels like to actually be healthy!
-Erica Smothers
Great chiropractic care
I started seeing Dr. Lindsey several years ago in an attempt to manage my, at the time, uncontrollable migraines. Daily headaches were affecting my every day life and after several tests I was at a loss. Dr. Lindsey listened intently to my concerns and goals then helped me come up with a game plan. Over the years we've tweaked it and tried new things. Now my migraines are very far and few between and I credit it all to great chiropractic care!!
-Erika R.
---
Utopia Family Chiropractic Reviews | (515) 225-2249